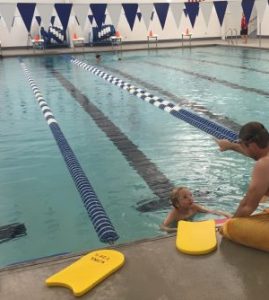 Lars is in third grade now. Life is filled with friends in various sports. Many of these sports do not appeal to Lars. One of his favorite things to say is, "I don't do LAND sports." But put this kid in water and look out!
I suppose we (his parents) are a bit to blame for his lack of enthusiasm in land sports. Neither Chris nor I take a huge interest in watching them on TV. I love attending the occasional Cleveland Indians game to enjoy the atmosphere and warm weather. I'll even take the family to a Cleveland Cavaliers game once in a blue moon, but it's not for Kyrie or Lebron. It's to watch my little sister (Lars' Auntie Marissa) perform with the Scream Team or the Spirit Squad or to solo mid court for the halftime performance.
When Lars changed schools this year, there was the challenge of making new friends. Sports is a common ground where most children can gather and enjoy the hustle together. One day Lars came home and shared that someone offered to have him on their team at a recess game of basketball, but he kindly declined telling them, "I'll only make your team worse," as he smiled and went on his way.
Some friends and parents have commented to us that we should put him in a 'land' sport. Their mind's were already made up long before making the suggestion to us. They have a tightly held belief that Lars is 'missing out' because he doesn't play traveling league soccer or summer baseball.
I always smile and do my best to handle my reply with the grace of a former collegiate athlete whose competitive spirit did not die with her athletic career. "Thanks, but it's not for him."
Sure, I'd love to see him passing a soccer ball around the yard or asking for a basketball hoop for our driveway. That's simply not him.
I do not measure my son against my standard for athletic involvement. I mean, I was on a competition tumbling squad by age 5! I could easily force him into sports. Commit to the time for practices and games. Travel here and there to prove that he's like I was as a child. No – better than me. But I don't. Why?
I don't measure my son against me. This doesn't just apply to me with Lars about sports. It's a fundamental philosophy we have in our family. The philosophy goes something like this: If you spend your time measuring yourself against other people, it will lead to disappointment and feeling lost because you are using the wrong standard.
Feelings of moral superiority to attacking your own self-esteem all are rooted in measuring against the wrong standard.
Have you joined a community organization all of your parents of your kids' friends join to feel great about 'doing your part' while your own grandmother sits alone in her room at a retirement facility? Or do you ever look in the mirror and don't see the body on that model from the fashion magazine in the grocery checkout and feel bad about how you look?
The standard is not determined by what's 'popular' with your friends or society. In order to build a strong foundation as an individual, a permanent foundation, don't measure yourself against other people. Look inward and set your own standard. You're more powerful and wiser than you think.
How do you build that same strong foundation in your kids? Use wisdom, not fads or external pressure from society. Examine things from the outside looking in, from your child's perspective. In our family, Lars is a tremendous swimmer while I can take it or leave it. He took to the water before he could walk. He comes ALIVE with JOY in the water.
He's not me. I can't hold him to that standard. I have to shift out of my own head and encourage him to discover his own standard. One that is not based on what everyone else is or isn't. A standard that brings him peace and joy and confidence.
Much like a craftsman uses his experience to select the correct tool, I encourage you do the same. Use your experience and wisdom to help your child build a solid foundation that is meant for him or her, not for someone else.